Like I told Cassie today, I took 238 pictures while I was home in Ohio for Thanksgiving last week, and 237 of them were of Tracey's cats. (The other one was of myself, naturally.)
I can't quite tell if cats are like kids in that they're only cute if you actually know them (or have read extensive blog posts showcasing their darling personalities), so these pictures might make your day or cause your hand to cramp from all of the lord-just-get-me-through-this mouse-scrolling.
Rupert is the loving one. He'll slink around the kitchen when he knows you're in the living room and just meow his fool head off, waiting for you to pay attention to him. He's always the first to play with any toy and the last to cut your thigh open while you're just trying to trim his nails, though he will politely box your face.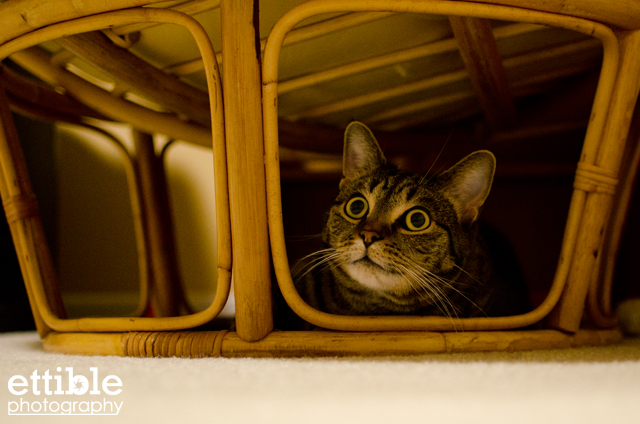 Graham has been the shy one ever since Tracey and her husband, Dan, bought a house and moved him from the apartment they had when they first adopted him. When he was a kitten, he was the frolickiest thing I'd ever seen; one of my fondest/scariest memories of spending the night in Tracey and Dan's old apartment is sleeping on the couch and waking up to see Graham jumping from the armrest to the back of the couch, claws splayed out as he flew over my head.
But Graham is also the most easily-entertained. Tracey keeps scraps of paper from her scrapbooking and taunts Graham by pushing strips of it in between DVDs on their bookcase so that it hangs out over the shelf, way too high for him to ever reach. He and Rupert will sit staring at these things for minutes at a time, making this little noise that they taught each other to do by clicking their jaws up and down.
WHAT ARE THEY LOOKING AT?
Tracey claimed that Rupert likes it when she does this. And then he immediately bit her.
Aaaaaaaaaaaaaaaaand I think I can officially be called a crazy cat lady now.