I don't like seafood. I don't like that it's been swimming around in a cesspool of its own feces, and I don't like that it tastes like it. But when your boyfriend wants to gulp an entire plate of raw ocean animalia, you don't argue; you make him take you to the Grand Central Oyster Bar.
The restaurant is underground, cavernous, monstrous, with huge arced ceilings tiled and lined with lights. It feels more like you're at an expensive wedding reception than on a private date. It's not really dim enough to be romantic, the tablecloths are a very small-town-diner red-checker, you can hear the slurps of the couple dining right next to you, and the clatter of silverware echoes off the walls. But for some reason, you feel really great being there. Really 1920s flapper-girl-in-a-string-of-pearls. You expect fat cats in suits and top hats to walk through the door any moment. But the unpretentious, jolly kind of fat cats.
The menu is amazing. If you like seafood. In a different life, I would've dove right into that caviar sandwich (because what isn't good on bread?), and a jumbo lump crabmeat cocktail sounds like an alcoholic's delight. Kamran was intent on our trying the bloody mary oyster shooter and splitting the bivalve platter, but since I can barely stomach the word "bivalve", we settled on some New England clam chowder. Which was totally delicious, even before I added three bags of oyster crackers to it. It wasn't fishy at all, and the clam didn't have the rubbery consistency I expected.
I had planned to play it legit and order the half chicken, but Kamran convinced me that if anyone was going to do fish right, it was "America's most historic and celebrated seafood restaurant". So I ordered one of the specials, a sturgeon splashed with rum sauce and golden raisins, hoping that the rum would get me drunk enough that I'd forget I was eating the ocean. It came with some nice buttery vegetables to help clear my palate between bites to keep me from freaking out and this REALLY AWESOME RICE. I don't have any idea what was in it, but it was a cheesy little ball of hearty warm nothing-else-I've-ever-tasted. And hey, the fish wasn't bad, either. When I asked the waiter if he thought sturgeon was okay for a seafood-hater, he told me that it's so mild there's a dish called sturgeon cordon bleu. And he was right for the most part; the ends of the hunk were much thinner and were a little bit browned, and they were actually what I might call "delicious". The middle was thick and moist, and although it didn't really taste any different from the ends, the fact that I could see all of the meaty layers freaked me out, so I had to leave a bit of it behind. Still, I was obviously proud of myself:
When I finished, Kamran said that
a) it's good I have no idea what a sturgeon looks like, or I would've been too scared to eat it, and
b) he, a seafood fanatic, wasn't sure he would've had the guts to try it. YES!
And speaking of guts, Kamran ordered the medley of shellfish and ended up being a little overwhelmed by the huge plate of oysters and clams arranged from smallest to largest, mussels, and giant shrimp.
He had been really excited about eating clams after having stealing a really good one from his sister's plate the last time we were at Balthazar, but the clams on this plate weren't cooked, and his stomach wasn't quite prepared for that after a childhood incident involving bad clams that made him sick. The oysters were a suckin'
slurplin'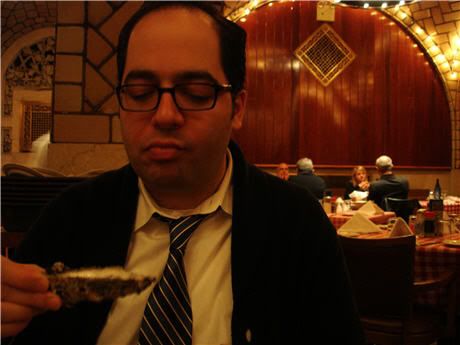 swishin' good time, though, and he liked everything else on the plate so much that he had a hard time deciding what to save for last. Although he did spend the rest of the night feeling like slimy things were swimming around in his stomach, so I felt vindicated.
Overall, I'd say the food must be pretty great if the anti-seafood-est person alive was able to handle it with a smile, and the atmosphere was neat if not dark and romantic, and it was the sort of experience that you feel like you can only get in New York. And that's what it's all about.